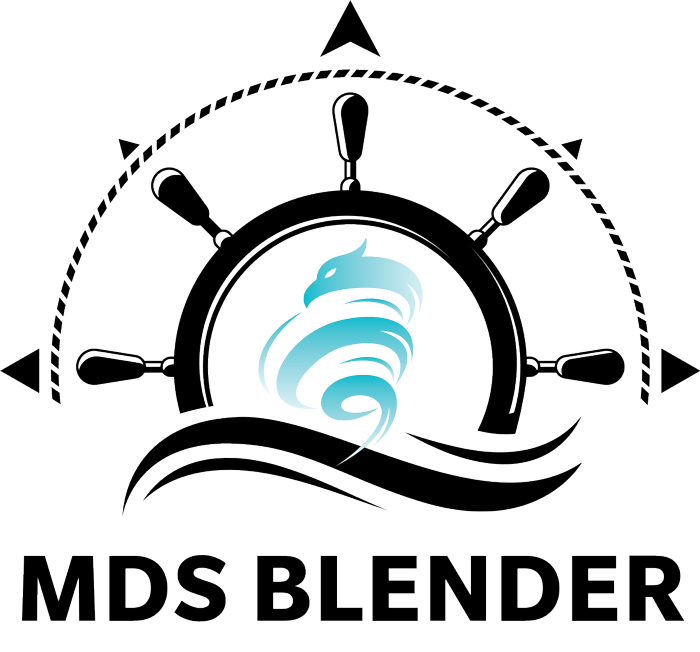 Eliminate Starlink Frustrations with MDS Blender Network Management!
STARLINK Problems:
Are you frustrated by these common Starlink problems?
• Remote Desktops don't stay connected
• Gaming suddenly stops
• Slow Internet speeds in congested areas
• Internet failures several times per hour
• VoIP and WhatsApp call drops
• Secure web site log outs
MDS BLENDER Solutions:
Marine Data Solutions has resolved these frustrating Starlink service issues with The MDS Blender.
• True seamless failover, so remote desktops, video calls, and gaming don't suddenly stop working
• Combine up to 4 internet sources
• Bond up to 4 inputs to increase internet speeds to a max of 1Gbps up and down
• Blend your internet sources to eliminate internet service interruptions
MDS BLENDER Effect:
• Remote Desktop, Gaming, and Video Conference all work properly
• Improved Internet experience
• Increased system speeds
• USA or UK IP address, when vessel outside of UK or USA
• Increased Internet security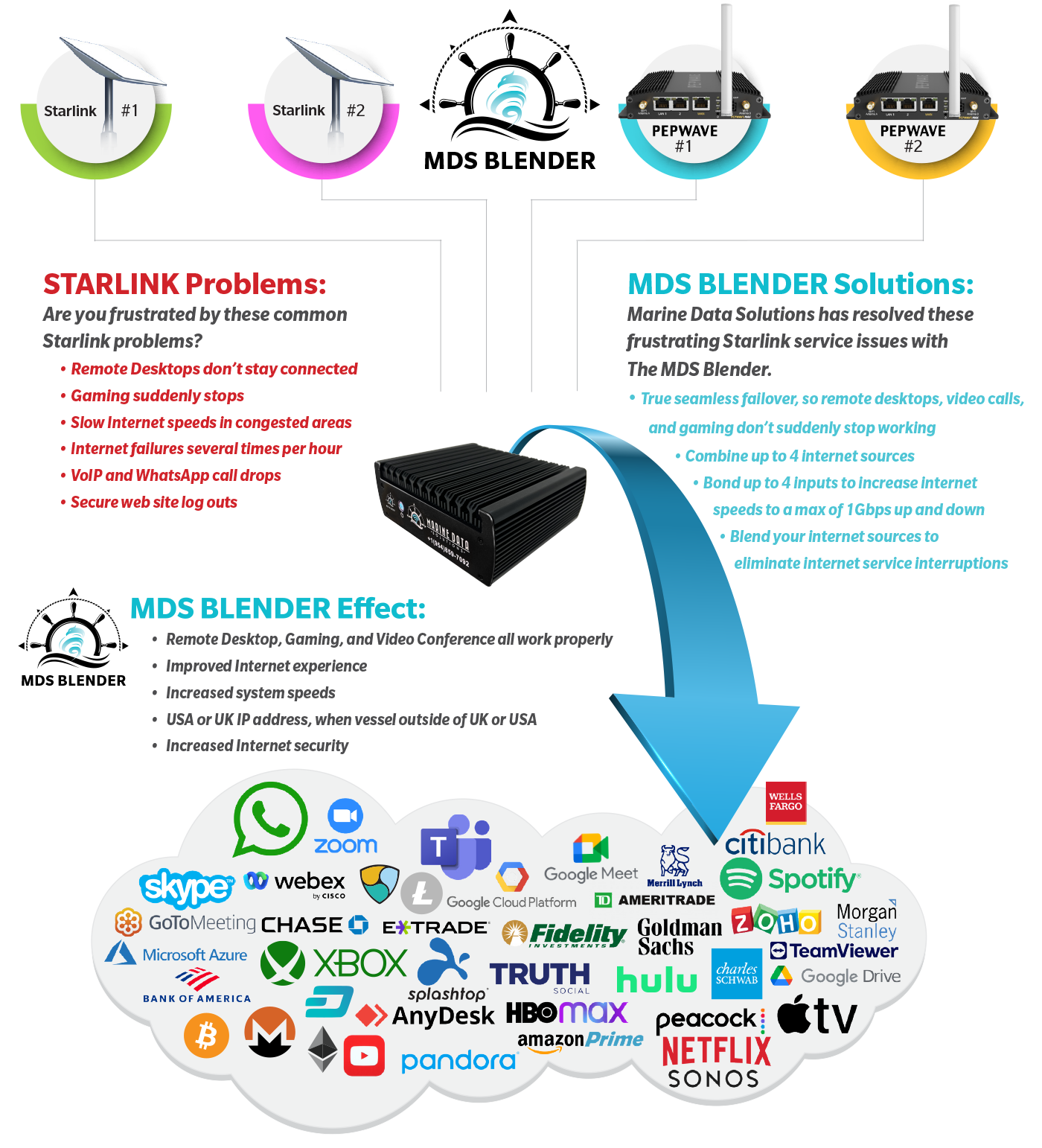 Common Starlink Problems and Advanced Satellite Internet Solutions:
Starlink download speeds can dramatically slowdown in areas with many users, affecting even those with the fastest yacht internet connections. Interruptions in Starlink service, common in marine satellite internet, often result in no service availability due to the absence of satellites in view of the antenna. During these interruptions, experiences like remote desktops, gaming, VoIP, and WhatsApp calls, as well as streaming entertainment services, are disrupted.
During these Starlink service interruptions:
Remote Desktops don't stay connected
Gaming suddenly stops
VoIP and WhatsApp calls drop
Secure website log outs
Streaming entertainment services stop working
MDS Blender Solutions
To resolve these common Starlink problems and enhance your seamless maritime connectivity, MDS Blender brings you:
True seamless failover for uninterrupted enterprise-grade maritime internet.
Combining up to four internet sources, including 5G yacht internet and high-performance satellite internet, to increase overall internet speeds.
The MDS Blender Bonding, can support ultra-fast yacht broadband with speeds up to 1Gbps up and down.
Our bonding technology, essential for high-speed maritime internet, efficiently speeds up uploads and downloads while ensuring no interruption in service.
MDS Blender Effects for Next-Gen Maritime Internet:
Increased reliability and performance, perfect for premium yacht internet needs.
High-speed bonding and true instant seamless failover for the most reliable maritime internet.
Customized IP settings for seamless streaming entertainment access, vital for mobile internet for yachts.
Enhanced internet security and an improved overall internet experience, with user and device usage management by GB and/or time frames.
MDS BLENDER Network Management Highlights:
Full offsite remote access to the entire vessel network, ideal for high-performance satellite internet.
Individual onboard device management with options like iCloud on/off per device.
Support for multiple Vlans and advanced network management features.
Yacht Owner Testimonials:
Discover how yacht owners and charter guests are now enjoying extended time on their boats with our 5G LTE internet and advanced Starlink satellite internet solutions, thanks to MDS Blender.

Yacht owner explains how she can now spend more time on her boat, outside of USA, Thanks to MDS Blender
Blender FAQ
🌀 What is the purpose of the MDS Blender?
– The Marine Data Solutions MDS Blender is a top-tier Yacht 5G internet solution and Maritime Starlink high-speed internet device. It's a Network Management tool that allows you to set user limits, and speed bonds up to 4 internet sources, offering a single, higher bandwidth, and more stable connection. The MDS Blender is ideal for demanding internet applications used by yacht crews, owners, and guests, including applications like Anydesk, Team Viewer, video conferencing, and secure websites, making it a perfect fit for high-speed internet solutions for yacht crew and Starlink maritime internet packages.
🌀 What is the maximum internet download speed of the MDS Blender?
– Experience advanced 5G internet for yachting and Starlink internet services for the maritime industry with a maximum bonded speed of over 1Gbps up and down, through the MDS Blender.
🌀 What is the monthly cost of using the MDS Blender?
– Offering reliable internet for yacht crew with no limits, the MDS Blender provides unlimited GB of Bonding, unlimited users, and network management for a fixed monthly cost of $300USD
🌀 What is the input voltage of the MDS Blender?
– The MDS Blender, suitable for maritime wireless 5G networks and seafaring high-speed internet options, comes with a versatile power supply, supporting 100-240V 50/60 Hz, adaptable to 12vdc.
🌀 What is Speed Bonding?
– Bonding, a key feature of the MDS Blender, splits/combines internet traffic among multiple internet sources, boosting overall system speed – a critical component in 5G network solutions for yachts and Starlink maritime connectivity.
➡️ Request more info
🌀 How many internet inputs can the MDS Blender support?
– Supporting up to 4 separate internet sources, the MDS Blender is ideal for integrating Starlink satellite internet for yachts with other internet sources.
🌀 How many outputs does the MDS Blender support?
– It supports 2 separate internet outputs, ideal for managing multiple network requirements onboard a yacht.
🌀 Where does the MDS Bonded internet come ashore?
– With options for USA, UK, or local IP, the MDS Blender is perfect for charter yachts needing flexible IP settings for their guests streaming services.
🌀 How can I connect multiple Starlink Maritime antennas together?
– The MDS Blender easily connects and bonds up to 4 different internet sources, including Starlink for luxury yachts and other systems, for enhanced network speeds and reliability.
🌀 Can I connect multiple Starlink antennas and a 5G antenna on the same network?
– Yes, the MDS Blender can bond up to 4 internet inputs, including multiple Starlink systems and 5G, offering increased speeds and reliability for 5G and Starlink in the maritime industry.
🌀 Why speed bond Starlink with 5G?
– Bonding Starlink with 5G through the MDS Blender ensures continuous internet connectivity, vital for 5G connectivity for maritime crew, even when Starlink satellites are not in view.
🌀 How difficult is it to install the MDS Blender?
– The MDS Blender is preprogrammed for easy installation, ideal for the modern yacht crew's connectivity needs.
🌀 Can I combine my Viasat system with Starlink?
– The MDS Blender allows the combination of Viasat and other legacy Vsat systems with Starlink and 5G, though it's important to note the latency implications.
🌀 How can I limit users on the yacht network to a specified amount of internet ?
– The MDS Blender allows you to control data consumption by user or device. For example, a crew member can be given 20gb of internet per week, with the amount of internet and time frame being adjustable.
🌀 How does MDS Blender Manage my Network and make it better?
– The MDS Blender enhances your network with full remote access, iPhone App, high-speed bonding, instant seamless failover, and more, making it an indispensable tool for high-speed internet for yachts.
🌀 How can I monitor the status of my vessels network ?
– The MDS Blender has an App for iPhone and Android that allows multiple users read only to access the Vessels network, at any time, from any location. The MDS Blender App will show you the current status of your system, including the following: internet input status, input downtime, Network usage, Starlink Blockage, Active devices, Upload and download used by Application, Upload and downloads by device. And in addition to that, the MDS Blender will allow you to cap internet use by devices or by user. Click the links below to download the MDS Blender app on the Apple App Store, or on Google Play.
The MDS Blender app is available on the Apple App Store, and the Google Play App Store. Search for MDS Blender, click the links below:

Summary of Mrs. Frain's Blender Testimonial
I am Tami, the proud owner of Romeo Foxtrot – a 116 Hargrave. We took delivery of Romeo Foxtrot in January, and I couldn't be more excited. The MDS Blender has genuinely opened my eyes to a whole new world of boating. I am now able to reliably work remotely without missing a day at the office. People at the office are unaware that I'm not present physically; they assume I'm working from home. This allows me to enjoy my ocean time discreetly. We had our grandchildren on board, during a trip to West End in the Bahamas, the kids were occupied with watching Coco Melon repeatedly while we were in transit. This streaming TV demand placed a lot on the Wi-Fi system. Nonetheless, everything worked great, and the kids stayed content, and we were able to utilize the Wi-Fi for work, at the same time. We also charter the boat, and I am confident that charter guests will also experience seamless connectivity, allowing them to remain connected to their work. While vacations are great, maintaining connectivity is crucial for many. The MDS Blender has impressed me; I am thoroughly pleased with its performance. It has opened my eyes and granted me the flexibility to work while on the boat, which wasn't feasible before. My husband always wanted to go boating, but I would decline due to work commitments. Now, I can work effectively both at home and on the boat, making it incredibly convenient. This experience has introduced me to an entirely new world of possibilities.